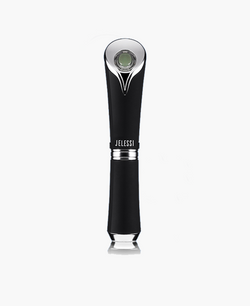 The skin around the eyes is much thinner and more delicate than the skin on the rest of your face. The products that you use around your eyes need to be designed specifically for this area. The Jelessi Photonix-2 Eye Wand meets this criterion, and its shape and size makes it extremely convenient to use.
The Photonix-2 Eye Wand has two unique functions. With the Blue Relief Mode, the wand is designed to eliminate toxins, brighten the skin and reduce puffy appearance. The Magnetic Heat Lifting Mode makes use of red light waves to stimulate collagen and elastin production.
Shipping to U.S.
Standard Shipping: 7-10 business days
Expedited Shipping: Up to 3 business days
Shipping to Canada and UK
International Priority: 10-12 business days
Shipping Worldwide
International Priority: 12-15 business days
Returns :
We offer free returns 30 days money back no hassle !