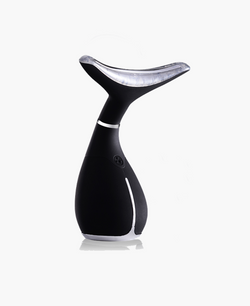 The skin on the neck contains fewer oil glands and melanocytes than the skin on the face, making it more easily prone to dryness, wrinkles and sun damage. Many experts agree that this area of the body is the most difficult to treat, which is where the Jelessi Photonix-3 Neck Solution device comes in to help.
The device provides several skin benefits, depending on the modes used for treatment. The first gear of the device is Massage Mode, which gently massages the skin to promote the production of collagen and elastin, both of which are vital for a smooth and firm complexion. The device also features a Magnetic Heat Lifting Mode, which stimulates the growth of fibroblasts while helping to smooth out fine lines and wrinkles.
Shipping to U.S.
Standard Shipping: 7-10 business days
Expedited Shipping: Up to 3 business days
Shipping to Canada and UK
International Priority: 10-12 business days
Shipping Worldwide
International Priority: 12-15 business days
Returns :
We offer free returns 30 days money back no hassle !